The Power of Tech in Cultivating a Vibrant Company Culture
Company culture – the most important thing that nobody really understands. It's like the unicorn of the business world – everyone talks about it, but nobody has ever seen it. Many companies claim to have a great culture, but their employees are secretly plotting their escape. Others have terrible cultures, but their employees are too scared to leave because they're paid in snacks and ping-pong tables.
One thing is clear – implementing technology is our trusty lifeboat. In this blog, we'll delve into how your company's tech stack can shape the way you work and play.
Microsoft Modern Workplace
Microsoft Modern Workplace is the ultimate wingman when it comes to enhancing company culture. The toolbox promotes collaboration, flexibility, learning, inclusivity, and diversity. 
Picture this: employees from different departments can easily collaborate, and communicate with classic tools like Microsoft Teams, SharePoint and Outlook. It's like they're in a non-stop virtual team, chatting, sharing files, and video conferencing whenever they want. But Microsoft's toolbox doesn't stop at just boosting collaboration…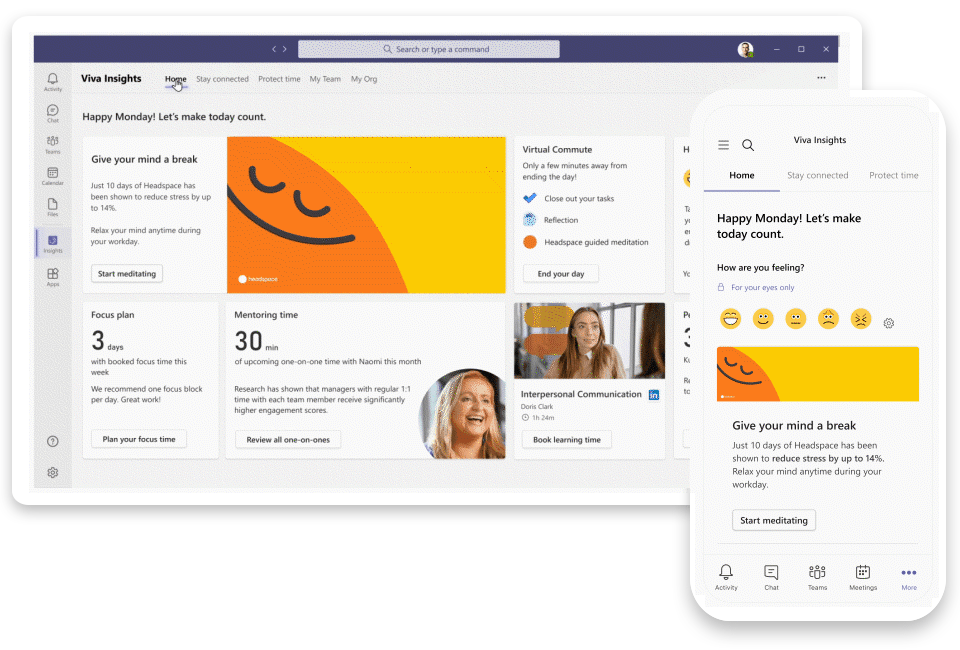 With their latest innovation, Microsoft Viva, workers have a personalised dashboard to help them navigate through the chaos. It prioritises focus time, projects, and learning whilst even including a mindfulness section with guided meditations and stress management tools because, let's face it, we all need a moment of Zen in our lives.
Through intelligent data analysis, leaders can keep an eye on their teams and spot potential burnout risks. Viva will be the superhero boss, swooping in to save the day by suggesting healthy work habits and actions to keep everyone in tip-top shape.
In simple, Microsoft Viva drives and measures change whilst protecting personal privacy.
Learning and development are at the heart of the Modern Workplace too, with Microsoft Learn providing a treasure trove of training resources and certifications to upskill and develop your workers.
And above all else, Microsoft's suite has embedded accessibility tools built in, so you always promote equal participation across your organisation.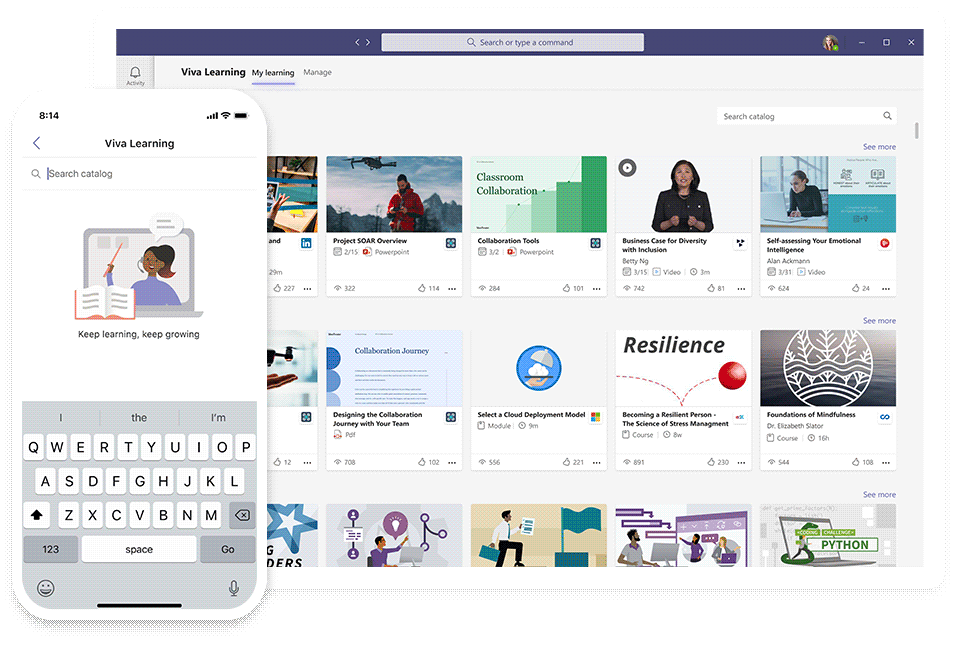 If there is any tech leading the way in making your employees feel connected and empowered, it's Yammer. Integrated with the full 365 suite, Yammer's ability to add organisational value and cultivate culture is unmatched.
Used by 85% of the Fortune 500 companies worldwide, Yammer is the Facebook of the corporate world but with a distinctively inclusive twist…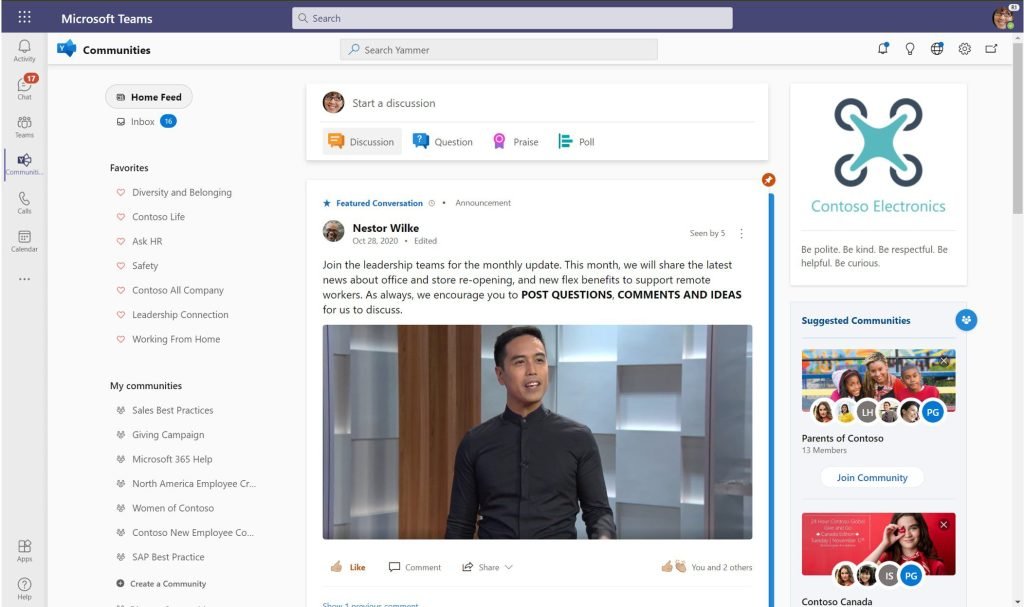 Instead of friends, it focuses on colleagues; instead of ads, it offers corporate reminders; and instead of personal updates, it features event announcements, queries, and problem-solving discussions among colleagues. 
If you get a large enough group together, there is bound to be fun. Yammer is informal enough to post gifs, jokes, and have fun, but formal enough to mean in time you acquire niche industry knowledge you never intended to know about. It enables people to learn even when they might be on autopilot.
Team members feeling like a cog in the machine, doing the same old routine every day… well, have no fear, automation is here. By taking care of all those repetitive and mind-numbing tasks, automation gives your team the time and space to focus on the things that truly matter – like enjoying work and feeling like a valued member of the team. 
Automation isn't just a fancy word for robots taking over our jobs. It's about using technology to simplify tasks and reduce manual labour. Within automation, there are several tricks you can have up your sleeve within ICT solutions from PowerBi to reporting.
A world where automated reports land on your desk (no more hours wasted in Excel – phew!), auto-populated CRMs, and automated customer follow-ups are scheduled in diaries. It's no secret that automation in the right areas helps keep the team happy.
Communication is the next critical aspect of company culture. I can tell you firsthand that dealing with cranky customers is not always a walk in the park. In fact, it's more like a walk through a park full of geese. But fear not! There is a silver lining to these feathered fiascos.
When your team has the right tech to communicate seamlessly with customers, they can handle any situation that comes their way with grace and ease. And when your team is able to handle these situations with grace and ease, they feel like superheroes. The solution to boost staff morale and create a culture that values communication is omnichannel. Omnichannel software is like having your very own army of customer service ninjas at your beck and call. With the software, you can manage all your interactions in one place, from phone calls to emails to social media.
And the best part? Omnichannel software can help you track all those interactions, so you know what's working and what's not. It's like having a personal coach for your customer communication skills.
Companies that start exploring the world of omnichannel have happy customers, and we all know happy customers = happy staff, and vice versa.
Hybrid working creates a positive company culture by giving employees the flexibility, trust, and freedom they need to do their best work. And new-age tech solutions have given us a whole new arsenal of gadgets to make hybrid working a breeze. 
No longer do we have to worry about missing a meeting because we're stuck in traffic, or being tied to a chunky desk phone. With cloud-based telecoms, you can bespoke your telephony platform to what your people need most. Whether you have technophobes that prefer a mobile app to take calls on their smartphone, a laptop app with headphones or a traditional slick desk phone, cloud telephony paves a way to allow staff to work from anywhere and connect with fellow teammates and customers in one secure platform.
The new generation of workers fly high with tools tailored to them.
You don't know, what you don't know!
Okay so, you've invested in all the latest and greatest ICT tech, your team is beaming with joy, and everything is rainbows. But wait, there's more! 
Feedback is critical to actually measure your culture. And we're in luck with Microsoft's recent feature: Microsoft Forms. With this nifty tool, you can survey your team on all sorts of important things like company culture, workplace policies, and employee engagement.
And the best part? You can use that data to identify areas for improvement and take action to make your workplace even more amazing. It's like having a crystal ball for your company culture.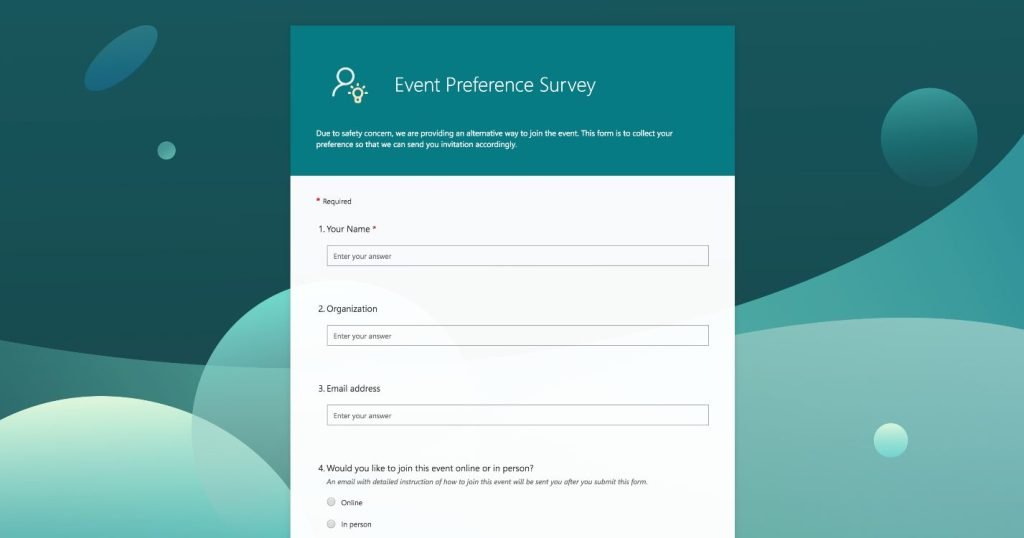 In conclusion, ICT and tech can do more than just make our lives easier (although, that's a pretty big win in itself). It can also transform our company culture from "meh" to "yeah!".
By embracing technology, we can create a workplace where our employees feel empowered and excited to come to work (and not just because we have free coffee in the break room). We can foster a culture of innovation and collaboration, where everyone feels like they're part of something bigger.
If you're interested in an informal chat on tech and culture, we're always happy for a coffee and catch up to share ideas on how to bridge the gap between people and technology.
Get in touch with the Matrix247 team to find the perfect business mobile to suit your needs!  
Matrix247 have been proving us with a great service now for many years. We recently purchased a new telephone system from them. Victor and Warren were great! They went through all options with us in detail, to ensure the system met our exact requirements. I would definitely recommend!
This, as with other recent enquiries, have been dealt with quickly and brought to a positive conclusion every time. Furthermore, they've taken the time to give advice and guidance along the way. Really helpful team. Thank you.
As a firm we've dealt with Matrix247 for our telecoms for around 10 years and they have always proven to be reliable, through in their planning and very easy to work with. The project was managed from start to finish by Matrix247 and despite the complexity was done very smoothly with no down-time for our staff. I would highly recommend them.
We are very pleased with our switch over to Matrix247 and cannot recommend them enough. Victor, Simon and all the team have helped us through a very difficult transition and have gone the extra mile to make sure everything was transferred smoothly.
Having moved to Matrix247 we were very impressed with the transition. Victor lead our project and was very efficient and thorough. Since going live, we have been very happy with the service Matrix247 offer us. They are timely in their responses, very efficient!
After engaging with Matrix247 and having a complimentary savings review done, Sharples Group overall communication overheads dropped significantly... and the pro-active customer service team at Matrix247 handled the change-over effortlessly and took full responsibility. A breath of fresh air.
We at Banks Wealth have been Matrix247 since our day 1 in 2011. They have provided excellent support at competitive prices during that time and have helped us expand our communications as our company has grown
We have dealt with Matrix247 recently and could not be happier. Both Vicky and Sarah came to our office to assist us with upgrading our existing system and they were both very efficient, polite and helpful. I would highly recommend them.
Great service from everyone involved at Matrix247. Engineers turn up when they say and sort any issues. Mia, our account manager is very helpful and informative dealing with any of our issues or queries, wouldn't hesitate to recommend the company for any of your communication needs.
Latest
Blogs
News
Articles
Events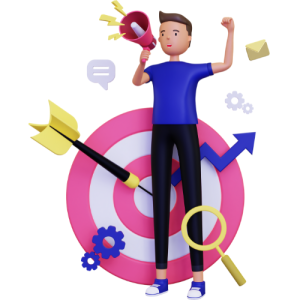 Company culture – the most important thing that nobody really understands. It's like the unicorn of the business world – everyone talks about it, but nobody has ever seen it. Many companies claim to have a great culture, but their employees are secretly plotting their escape. Others have terrible cultures, but their employees are too scared to leave because they're paid in snacks and ping-pong tables.
Read More >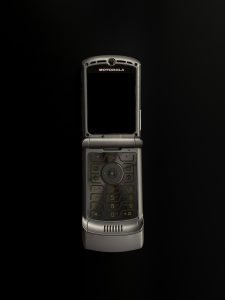 Overseeing multiple business phones within an organisation is often seen as a chore but controlling mobile data usage is crucial to avoid excessive charges and maintain operational efficiency.
In this guide, we will provide valuable insights and strategies tailored specifically for managers seeking effective mobile data management without incurring unnecessary expenses.
Read More >
Brace yourself for lightning-fast speeds and unparalleled connectivity that will revolutionise the way you operate, empowering seamless communication, collaboration, and data transfer like never before. With 5G as your ally, you can work from anywhere, at any time on any device. It's time to embrace the next gen technology that will redefine the future of business.  
Read More >