Find out what a number of our partners say about working with Matrix247 and see how they have benefited. From working flexible hours from the comfort of your own home, a partnership with Matrix247 can help you to achieve that.
Pippa is a Referrer at Matrix247 Partnerships, working hard to refer businesses to the team, whilst focusing on her degree at university at the same time. 
"I started my journey here, whilst I was at university studying psychology. I wanted a job that was flexible and adaptable, as I am a parent to two young girls. I can also complete my degree and then go on to my PhD, and the company is fully supportive of this, which is really unique."
Chris: Full Time Consultant Partner
Chris is a Consultant Partner working full time with flexible working hours to build and manage his own client portfolio.
"The benefits of being a Matrix247 partner far outweigh working for a company direct. Being self-employed allows me flexibility and I'm in a much stronger position financially. All the training in place is extremely useful and delivered by the team I work on proposals with so it's a great opportunity to get to know them better when I visit Matrix247 HQ. They are all always available for help and advice."
Richard: Super Consultant Partner
Richard manages his own portfolio in addition to recruiting his own partners under the Matrix247 brand.
"I previously worked for 16 years as an account manager for a large corporate. I simply didn't wish to continue working with such an impersonal large enterprise wanting sales at any cost. After taking a redundancy package I was looking for a trustworthy, honourable and capable company I could work closely with in partnership. I am able to work locally and from home instead of facing long commutes, whilst having the infrastructure to use an office when I need to and hold meetings."
Company Partnerships allow existing companies to partner with Matrix247 and 'white label' Matrix247 products to expand their portfolio or alternatively establish formal introductions.
"We were looking for a partner we could rely on, who would help us give our customers a better service. The commercial benefits we receive we see as an added bonus. Our previous partner/supplier started to contact our clients directly without permission and tried to supply them directly. I know I can trust my Matrix247 Partnership Support Team 100%. They are the best for both me and my customers I've come across."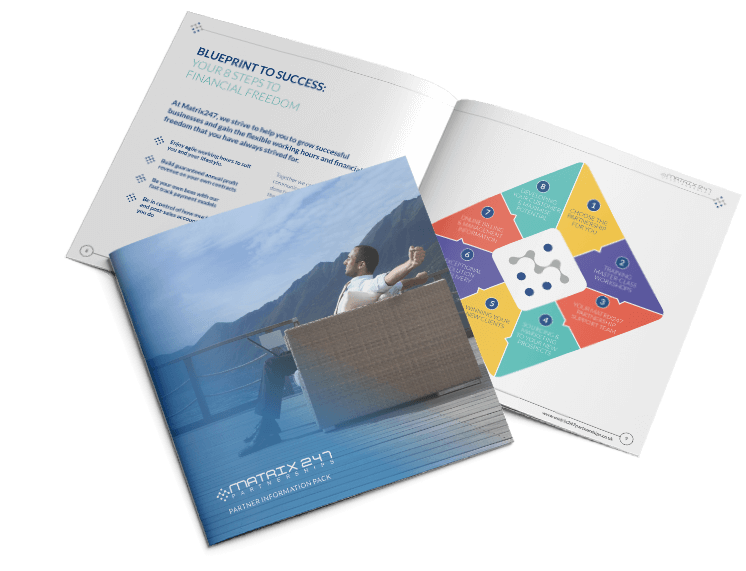 Start your success story today!