With the Matrix247 Partnership we strive to help you grow a successful business. Gain the flexible working hours and financial freedom that you have always strived for.
Choose the perfect partnership for you
Consultant Partnership: Agent or Referrer
Company Partnership: Portfolio Expansion Plan
Super Consultant Partnership: Managing OWN Partners
Step 1
Step 2
Step 3
Step 4
Step 5
Step 6
Step 7
Step 8
Step 1
Choose the Partnership for You
Create your own Communications Business with a ready-made portfolio suite to include access to our wholesale telecom and mobile carrier partnerships & direct agreements with global manufacturers and service providers.
Our product and service solutions include:
Cloud Telephony Solutions
SIP & Hosted deployments
Mobile phone and mobile data portfolio
Voice and data network services
Cyber security services
Managed IT Services
Digital Print & Document Management Solutions
Step 2
Step 3
Step 4
Step 5
Step 6
Step 7
Step 8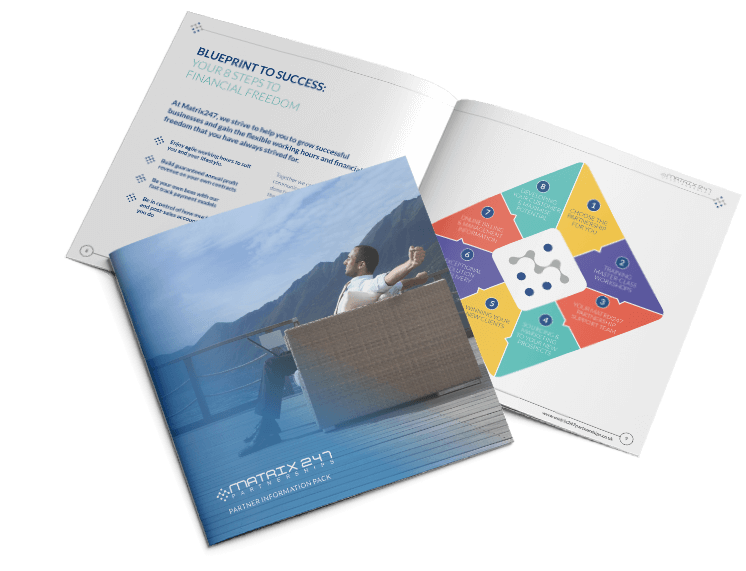 Start your success story today!
Stephen Pritchard and Geoff Wright are the Co-Founders of the Multi-Award winning Matrix247 Group, established in 1991.
As regular guest speakers at events and jointly planning future strategy of the firm, Stephen and Geoff have been instrumental in guiding Matrix247 into a pattern of continual growth.
The business strategy aims to double the Matrix247 Group revenue through more vertical market expertise and geographic reach, through pro-active marketing, conferences, seminars and digital media activity.
Global partners of Matrix247 include Mitel, Samsung, Vodaphone, Apple and EE. This allows Matrix 247 to consult, project manage, install and maintain a wide portfolio of products and services. Their key areas of specialism are within the Professional Service, Insurance and Legal sectors, offering call centre and inbound contact centre solutions.
Geoff and Stephen are available to guide you through building your own successful business. With over 20 years experience, they will personally share insights of product marketing and new customer acquisition strategies to consider adopting depending on your own existing skill-sets, background, product or market sector history.