Photocopiers & Document Management Solutions
With hybrid agile working models here to stay, we're here to help your organisations transition to a paperless office. 
Photocopiers, Printers & Scanners
We understand that photocopiers, printers and scanners are an essential part of your organisation. As an authorised Papercut MF Partner we can implement print management into your organisation to monitor and control use, avoiding wastage and saving money.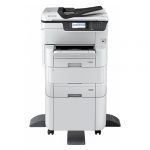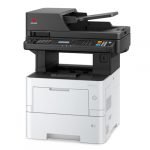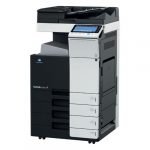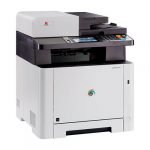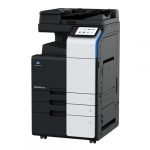 This includes outsourced print and mail, the management of print devices such as printers, scanners, photocopiers and multifunctional devices, as well as document management and workflow solutions. This service is focused around efficiencies, process improvements and creating an environmentally friendly print environment. 
Managing the volume of printed documents within your organisation will also make tracking documents easier. Using Managed Print Services allows you to potentially save up to 50% on your print costs.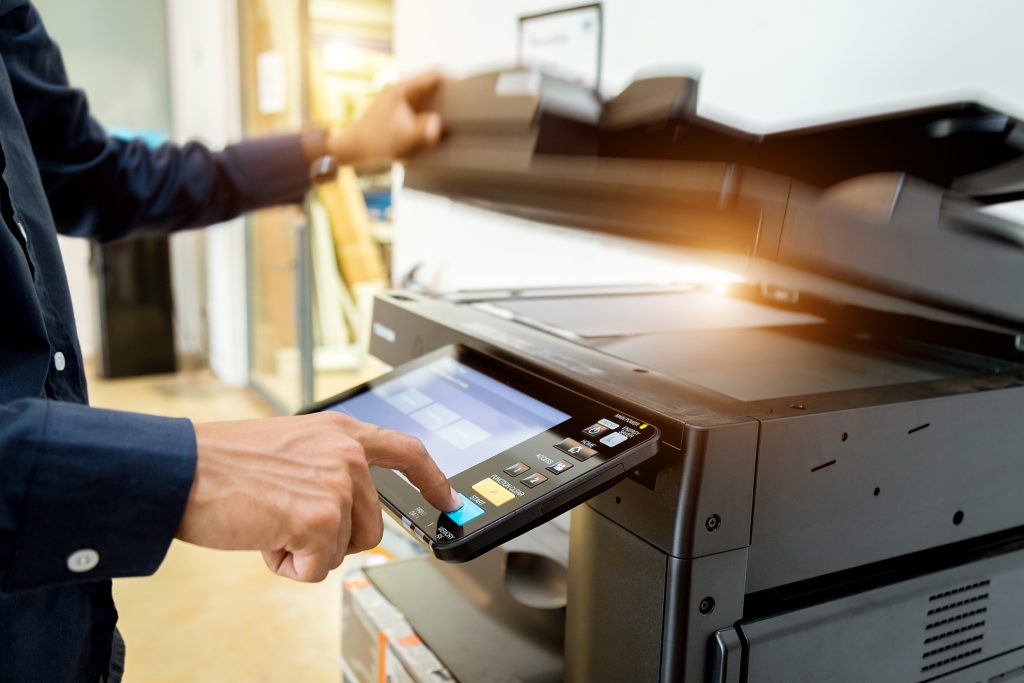 Electric Document Management
Scan and convert paper documents into electronic files which can be stored, retrieved, distributed or added to your workflow. Our secure document management solutions mean your documents are kept safe, and you can find them quickly with an easy-to-use search function. 
Documents can be viewed and shared on any desktop or mobile device, and can save you hours in unnecessary admin. 
Save Time: No more searching office drawers, cupboards and files for your documents; you can keep track of each document revision, making sure the latest version is always at hand. 
Speak to our document management and digital print experts today
Call our team and you'll speak to someone who really understands our products and can talk you through the solutions that will be best for your organisation. 
A named and dedicated account manager will be allocated to you, and provide a consultative approach to help find the right solution for your organisation. 
Call us on 0345 3620 247 or, alternatively fill in the form and we can call you back. 
Digital Scanning & Storage
Living in a hybrid world of paper and electronic information without a unified view of your information, you and your employees can spend precious time searching for what you need. When you do find the information you need, if it's in paper format, you still can't easily access or quickly share with others, especially your remote workforce.
Through a combination of Matrix247's document scanning expertise, infrastructure and a modern, secure cloud storage repository, Matrix247's Document Scanning and Digital Storage services enable you to take the first step on your digital transformation journey. If required, your organisation can have your inbound physical mail redirected to our secure facilities, and our team of experts will receive, open and scan your mail so you can access this securely online. 
Our archive storage services are bespoke for each client, and can accommodate storage requests from a single box through to thousands. Our secure archive storage will save you money and reduce operational costs, as your staff will only need to request the box or files they need. 
Save Money – Store your files in our secure facility where you'll have simple, quick access when you need it. Your expensive office space can be used for your business, rather than a place to keep dusty boxes. 
Convenience – When you request documents, we'll normally deliver them to you the next day – same day service is also available. 
Scanning – We can scan and email/fax back your documents allowing you even swifter access to your documents. 
Shredding Schedule – A secure destruction policy for your documents – you'll only store files you need to keep, saving you money.
Compliant – GDPR compliant, documents are stored safely in a secure warehouse. 
Tracked – Online software tracking, from desk-to-desk to storage. 
With storage capabilities in secure storage warehouses in Manchester and Birmingham, collection and retrieval is available, even on the same day!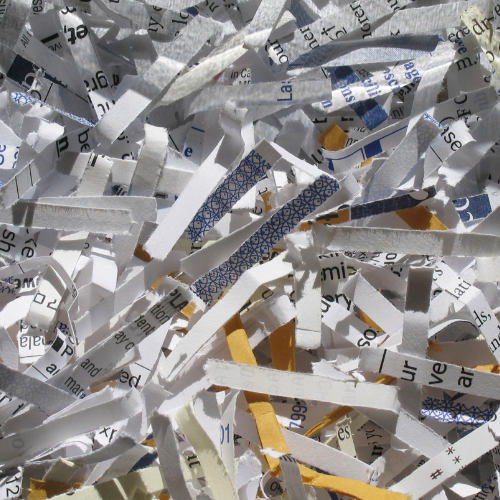 We offer an inexpensive, secure shredding service, convenient for your organisation. Shredding offers a secure and convenient means of destroying paperwork – but if you shred in your office, you still need to securely dispose of the paper. 
Our document shredding service not only ensures all of the information on your paperwork is securely destroyed, but the paper will be recycled, too!
Protection of your customers and employees details – using a secure paper shredding service will give you peace of mind that confidential data has been destroyed securely – with a certificate to prove it. 

Safeguard your customers and your reputation – and be GDPR compliant. GDPR compared to the previous Data Protection Act has brought an increased liability and fines for data breaches. Our secure office shredding service can help you stay compliant. 
What our clients say...
"What makes Matrix247 really stand out to us is the working relationship that we have got. They have spent a lot of time understanding what we need by speaking to us, meeting with us and also looking at the issues that we faced in a go live scenario and trying to make the whole solution fit for us."
What our clients say...
"An excellent company to deal with. Matrix247 have supplied our comms for a number of years now. We trust them to recommend what we need. They have never let us down. Ste Pritchard and his team, and our account manager Victor, really care about their clients. I would have no hesitation in recommending them."
What our clients say...
"Always receive great service from everyone involved at Matrix247. Engineers turn up on time and fix any issues. Mia, our account manager is very helpful and informative when dealing with any of our enquiries, I wouldn't hesitate to recommend the company for any of your communication needs"
What our clients say...
"We are very pleased with our switchover to Matrix247 and cannot recommend them enough. We had been with a large provider for many years with appalling service. Victor, Simon and all of the team have helped us through a very difficult transition and have gone the extra mile to make sure everything was transferred smoothly. We would have no hesitations in recommending this company to other businesses."
What our clients say...
"Matrix247 have provided us with a one stop shop for our business needs, in which it becomes time consuming to try and get the service you need to trade. My experience of dealing with both the sales and customer service team is that they are very professional, efficient and most of all friendly and approachable. The service provided by Matrix247 fits in with the companies Development plan and I will continue to use them at every new site."
Printed documents need to be effectively controlled and secure. Under GDPR you must have a clear document handling process in place to manage and account for all instances of personal data. This includes printing, scanning and copying documents containing personal data. Just ask yourself a few questions about paper documents in your organisation: 
Can you describe the end to end process for handling a document containing someones personal data?

Is every paper document accounted for when it comes off a printer?

Can you provide an audit trail for every printed document?

Can you track a paper document right through your organisation? 
If the answer to ANY of these questions is no, then you might not be GDPR compliant. You need to make sure you have a process in place for the life of the printed document, and make sure that every piece of paper containing personal details is accounted for and managed effectively. Electronic document management can help you comply with GDPR.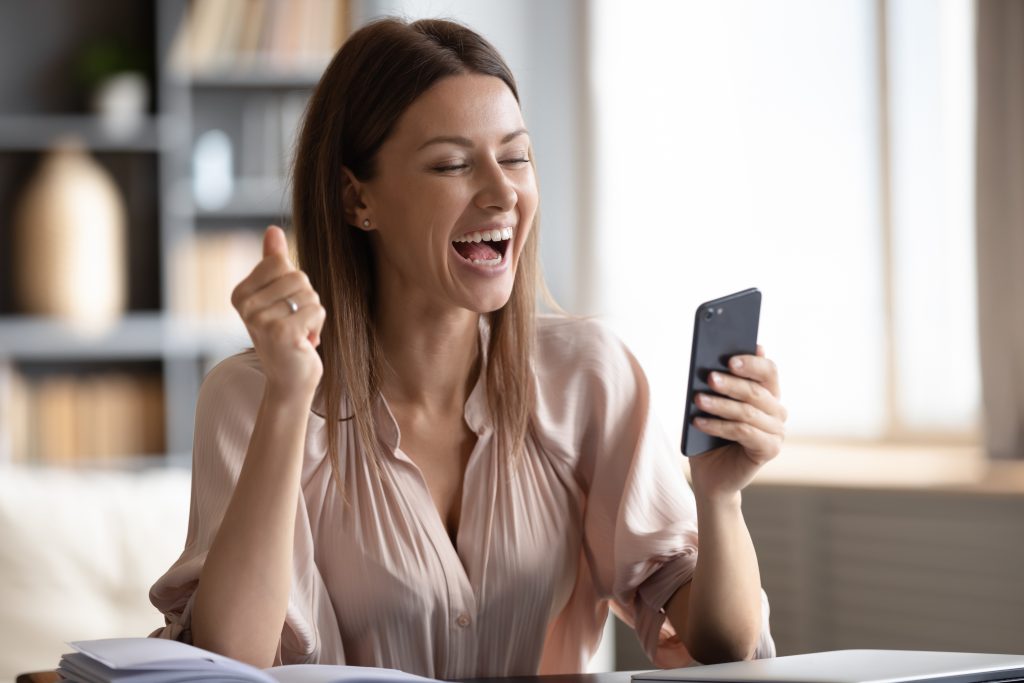 with the
Matrix247 Reward4Loyalty
Scheme
Loyalty matters. We pride ourselves in our decade (or longer) relationships, helping single-site organisations transition to multiple locations over the years, very simply, very effectively and very flexibly by implementing a well thought out joint ICT strategy.
That's why we introduced our Reward4Loyalty Scheme. We offer a hugely attractive plan for clients that deploy a combination of services, guaranteeing YOU the lowest possible investment and ongoing operating costs for your firm.