Cloud / Hosted Telephony – What Is It & Why Do I Need It?
How Hosted/Cloud telephony can help with agile working
Hosted/Cloud telephony allows you to work anytime, anywhere. Nowadays, employees increasingly want and even expect to be able to work from home or on the road. This is a positive way of building a culture of trust, and keeping employees motivated by enabling a work-life balance.
But it's not just staff who can benefit. Any employer looking to improve employee productivity should be empowering their team to work when and where they want to.
Today's workforces are increasingly dispersed, but they still need to communicate and collaborate effectively wherever and whenever. If employees don't have access to the communication and collaboration tools they need, this can dramatically impact their productivity.
93% of employees felt productivity had been improved by their organisation adopting unified communications and collaboration tools.
By 2020, over 70% of UK organisations will have adopted flexible working. Whether it's a two-hour train journey back from a client meeting or working from home to deal with a broken boiler; there's a lot of potentially lost hours in modern life for companies who don't give their staff the tools to work flexibly. Traditional platforms like fixed desk phones are still important – but to really maximise productivity, you and your team need access to mobile devices.
A hosted office phone system, such as Gamma Horizon, combines fixed and mobile telephony, making it an ideal platform for workers on the move.
What is Hosted/Cloud telephony?
A hosted telephone system resides in a data centre hosted in the cloud, rather than your office. Employees can access the phone system through a standard IP handset or a softphone (a screen-based virtual phone with a headset). Calls are made and received over a broadband connection and from there, they get routed to the right places.
Hosted telephony is becoming increasingly popular with UK businesses. Since the telephone system is in the cloud, this means there are no more costly PBX maintenance or upgrade costs.
ISDN is fast becoming outdated technology, as well as being the more expensive option for businesses to run.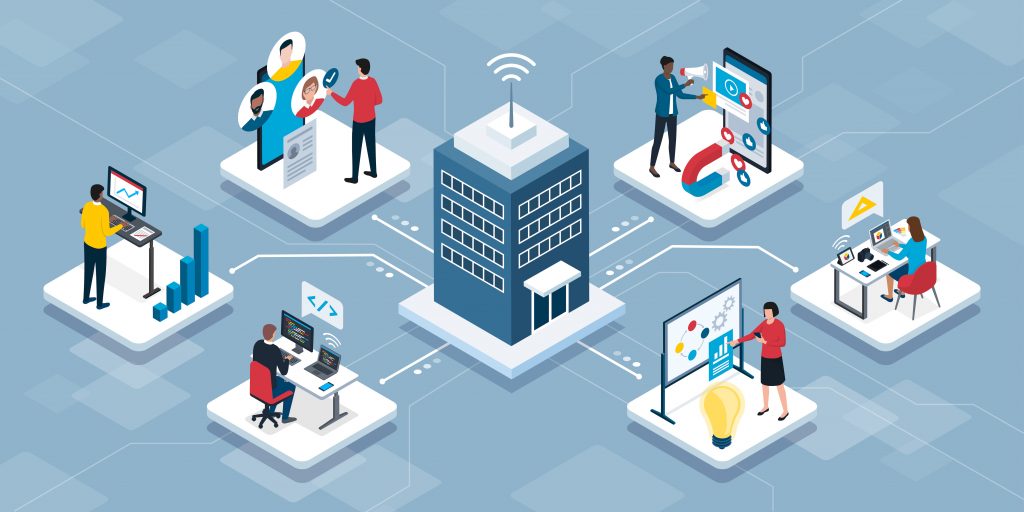 Cloud telecoms for Small, Medium & Large businesses
Cloud is here to stay. In the Gamma Digital Transformation Survey 2017 of over 400 UK businesses, only 2% said they had no activity with Cloud services.
75% of UK SME businesses have adopted cloud services in one form or another (Cloud Information Forum (CIF) Survey 2015). Moving to the cloud means no up-front spend on hardware, software or maintenance and it's great for businesses with multiple sites and remote/mobile workers.
Call our team and you'll speak to someone who really understands our products and can give you an estimated quote, no hassle, no obligation.
A named and dedicated account manager will allocated to you, and provide a consultative approach to help find the right solution for your organisation. 
Call us on 0345 3620 247 or, alternatively fill in the form and we can call you back. 
Hosted/Cloud telephony vs VoIP
Although many people think cloud telephony and VoIP are the same, they have significant differences in terms of functionality. A cloud telephone system is where the telephones are sat in a data centre in the cloud. Whereas, with a VoIP solution this purely means how the call is made. Whether the phone call is made over a data connection in the cloud or via an on-premise telephone system.
Hosted/Cloud Telephony Benefits
As well as giving your organisation access to low-cost and free IP calling, a hosted system puts a huge range of smart call management features at your fingertips. Integration with mobiles and other devices are also possible.
More benefits include:
No capital outlay, predictable monthly costs
Disaster recovery/business continuity as standard
Lets your staff work flexibly from wherever they want
Free calls between locations, office phones and to company mobiles
Enable agile working & remote access securely for home and when mobile.
Huge savings for multi-location firms through a centralised operator.
Enhanced call queuing for rapid response to answer first time
More resilient and stable communications platform enabling business continuity
Centralised admin for moves, adds and changes for multi-location firms
Crystal clear voice quality
No more maintenance charges as no phone system in your premises
Always on the very latest levels of software release so more secure from hackers
Perhaps most important is the degree of control a hosted system gives you. Your organisation's entire communications, across multiple sites, can be managed easily.
The Great British Switch Off – Are You Prepared?
The ISDN (traditional phone line) switch off has gained a lot of attention since OpenReach first announced the transition in 2015. The movement has led thousands of businesses to talk about it and start getting prepared to make the switch, so it's vital to know where that leaves your business.
What is the ISDN Switch Off?
Back in 2012 our televisions made the switch from traditional analogue to digitalized freeview channels, instead of 4-5 channels, we could access a whole list for a one-off cost. Phone lines are now making a similar transition into the new digital age.
The Switch Off refers to the termination of all copper services used for voice: ISDN, PTSN, and multi-lines. Although 2025 is the deadline when ALL organisations will be switched off, this process has actually already begun as of last year.
Already starting in December 2020, BT have already disclosed the postcodes which are going to be switched off, with the next batch targeting some Greater Manchester, Leeds & Liverpool postcodes in June 2021.
Where does that leave my organisation?
If you're one of the millions of UK businesses that rely on ISDN phone lines for your communications, you will need to upgrade to avoid disruption. The new modern technology is more sustainable and most importantly, cost-efficient and allows for a more seamless, intelligent approach to communications.
Read more information on this topic here. 
How does Hosted/Cloud telephony work?
Unlike traditional telephony which relies on physical copper telephone lines, hosted telephony uses the internet to send voice data through the local phone exchange. Providing you with a telephone system that's in the cloud. Therefore, you can use IP handsets, mobiles, or even a desktop application to make and receive calls.
Hosted Telecoms vs On-Premise
Are you currently operating using an on-premise telephone system in your organisation? It could be time to consider joining the other 75% of businesses and move your telecoms to the cloud with a hosted telecoms solution.
Hosted Telecoms for a Law Firm
Today, lawyers are moving from formal meetings with geographic limitations towards real-time collaboration. And, using diverse communication methods and devices regardless of location. As a law firm, you are unique in the services you provide to your clients. Enhance your telephone system to be the same with the suitable add-ons you require. For example, call recording, integration with your calendar and address book, voicemails, integration with case management systems, on-screen dialling, the ability to divert calls to external office locations so the phone never goes unanswered and more.
Gamma Horizon
Gamma Horizon is a hosted telephone system service providing businesses with an extensive range of fixed and mobile telephony capabilities. This is via an easy-to-use web portal and takes the burden away from your IT team. Employees can manage their calls easily and effectively, thereby maximising individual productivity.
What our clients say...
"What makes Matrix247 really stand out to us is the working relationship that we have got. They have spent a lot of time understanding what we need by speaking to us, meeting with us and also looking at the issues that we faced in a go live scenario and trying to make the whole solution fit for us."
What our clients say...
"An excellent company to deal with. Matrix247 have supplied our comms for a number of years now. We trust them to recommend what we need. They have never let us down. Ste Pritchard and his team, and our account manager Victor, really care about their clients. I would have no hesitation in recommending them."
What our clients say...
"Always receive great service from everyone involved at Matrix247. Engineers turn up on time and fix any issues. Mia, our account manager is very helpful and informative when dealing with any of our enquiries, I wouldn't hesitate to recommend the company for any of your communication needs"
What our clients say...
"We are very pleased with our switchover to Matrix247 and cannot recommend them enough. We had been with a large provider for many years with appalling service. Victor, Simon and all of the team have helped us through a very difficult transition and have gone the extra mile to make sure everything was transferred smoothly. We would have no hesitations in recommending this company to other businesses."
What our clients say...
"Matrix247 have provided us with a one stop shop for our business needs, in which it becomes time consuming to try and get the service you need to trade. My experience of dealing with both the sales and customer service team is that they are very professional, efficient and most of all friendly and approachable. The service provided by Matrix247 fits in with the companies Development plan and I will continue to use them at every new site."