Revolutionise your Communication:
Top 5 cloud telephony integrations you need to
know about
Cloud telephony is a powerful solution that enables organisations to make and receive phone calls over the internet. However, the real power of cloud telephony lies in its ability to integrate with other business applications.  
In this blog, we will explore our top 5 cloud telephony integrations that can help organisations streamline their communication processes, increase productivity, and ultimately drive growth. 
93% of customers are likely to make repeat purchases with companies that offer excellent customer service. (HubSpot Research), and all of the below integrations can support your customer service goals 
Improved, more personalised Customer Experience
Customer Relationship Management (CRM) is a crucial aspect of any organisation, and integrating your cloud telephony system with your CRM can not only make your life a whole lot easier but deliver a more personalised customer experience. 
Picture this: an existing customer calls your organisation, the call handler has all their details, previous orders/transactions, and relevant documents popped up on their screen within seconds. The productivity gain for your team, and first-class service for the customer is a win-win. 
Similarly, a new customer calls, and all the details you need automatically populate in your customer database. No more sticky notes of random numbers and your team trying to figure out whether it's a 1 or 7 to call them back. Seamless and automated data input. 
Essentially this simple integration delivers an improved customer experience, and most importantly, helps you have the right data to add profit to the bottom line. 
2. Meet the Team Page Integration
Proven to increase sales & client engagement.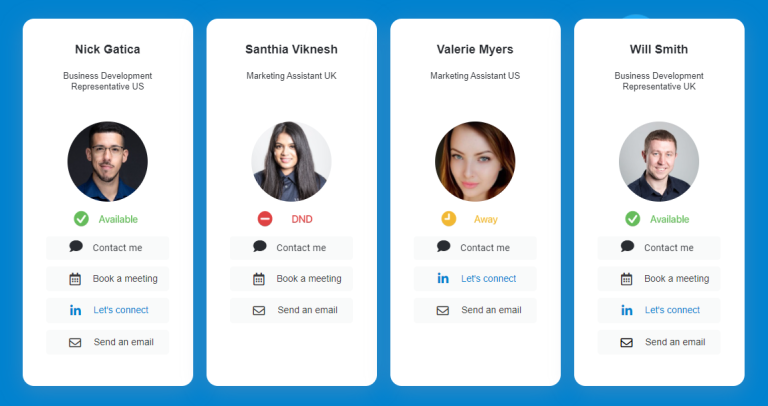 It's no secret that Meet the Teams pages on a website are an opportunity to build rapport, gain credibility and increase website visitors. Now imagine through a simple telephony add-on, your website shows your team, their availability, and a direct call or chat button. 
Whether you just plug your sales team, customer service team or all your staff, this integration can boost your sales by up to 42% (Cloud Provider confirmed). 
It gives your customers transparency, connection, and brand repetition, whilst being a part of your main phone system. 
Enhance customer service AND free advertising!
Are you aware of the average time it took for 1000 UK business people surveyed to receive a response when calling SME firms?
Call answering waiting times:
18% have to wait 1-5 minutes

23% have to wait 5-10 minutes

21% have to wait 11-20 minutes

13% have to wait 21-45 minutes

6% have to wait 45-60 minutes

19% typically give up waiting altogether
If the average time for your organisation is just ONE minute multiplied by 120 calls a day – this equates to two hours. Multiply by 22 working days a month – you have 44 hours of free advertising space per month (that is 66 working days a year!), to use very professionally and subtly, that many firms are missing out on!
How many calls a day does your organisation receive?
No one wants to wait on hold in silence or with stock music for long periods of time, this is when frustrations bubble and already busy receptionists or customer service staff get to bear the brunt of the frustrations.
This is where intelligent information messages delivered to callers whilst on hold comes into play. Long gone the days of dreaded classical music on repeat, you can keep your customers engaged and happy.
Most popular with our client base, queue buster information on hold. If you haven't heard of this, the end goal is to minimise long hold times which inevitably, enhances customer service whilst empowering your employees.
Let's say your organisation is experiencing high call volumes, resulting in long wait times with up to 8, 9, or even 10 people waiting to get through. In such situations, a queue buster feature is a lifesaver. By providing customers with the option to request a call back at a quieter period later in the day, the queue buster information on hold can help to reduce their frustration while also logging the call in the receptionist's diary for follow-up. Additionally, this feature allows callers to hang up and focus on their tasks, while the system automatically dials them back when their turn in the queue arrives.
If your organisation doesn't experience busy call queues, using fresh hold music with new offers or company news is a simple yet effective way to boost brand awareness and keep customers engaged while they wait on the line.
Another option is to provide useful information on hold that can deflect customers to your website or email if the issue can be resolved digitally, thereby saving valuable human time for more critical calls. At Matrix247, we often set up a common info on hold for our clients with branded music and options to guide callers to digital channels if necessary.
4. Microsoft Teams Integration
For complete staff collaboration and management tracking.
Unsurprisingly, 90% of the UK workforce use Microsoft Teams, but far less are seizing the opportunity to integrate with the other largest-adopted communication platform – phone systems. 
Integration with teams is becoming increasingly popular as a full-wrapped communications system.  
For both internal and external calls, your team can keep in the familiarity of the team's interface whilst benefiting from the ability to quickly send files through OneDrive / their Microsoft365 account.  
All of which can, of course, be tracked and reported on for the senior decision-makers of the organisation.  
5. Compliance / Training good practices / Tracking comms trends
Aside from the compliance and safety net of having calls recorded, this feature brings a whole host of benefits for organisations that want to grow, report on campaigns and generate revenue. 
Call recording allows you to analyse customer interactions, monitor employee performance, and ensure compliance with regulations. Cloud telephony systems offer call recording, but you can take it up a notch with call analytics.  
Call analytics collects all your communication data and presents it in a way you can monitor trends and KPIs at board level to truly understand the customer journey. From analysing hold times and peak call periods to optimising sales calls and tactics, this tool enables you to put meaning behind your data. 
Take your communication game to the next level……..Whether you need CRM integrations, on-hold options, or call recording, we can help you build solutions that make your team smile and your customers feel connected in a whole new way. 
Fancy a chat about your telephony systems integrations?
We would love to have a coffee and conversation to share ideas on how our clients are optimising their telephony system for organisational growth.
Either fill out the form or email hello@matrix247.com to book a discussion with one of our telephony experts!
Matrix247 have been proving us with a great service now for many years. We recently purchased a new telephone system from them. Victor and Warren were great! They went through all options with us in detail, to ensure the system met our exact requirements. I would definitely recommend!
This, as with other recent enquiries, have been dealt with quickly and brought to a positive conclusion every time. Furthermore, they've taken the time to give advice and guidance along the way. Really helpful team. Thank you.
As a firm we've dealt with Matrix247 for our telecoms for around 10 years and they have always proven to be reliable, through in their planning and very easy to work with. The project was managed from start to finish by Matrix247 and despite the complexity was done very smoothly with no down-time for our staff. I would highly recommend them.
We are very pleased with our switch over to Matrix247 and cannot recommend them enough. Victor, Simon and all the team have helped us through a very difficult transition and have gone the extra mile to make sure everything was transferred smoothly.
Having moved to Matrix247 we were very impressed with the transition. Victor lead our project and was very efficient and thorough. Since going live, we have been very happy with the service Matrix247 offer us. They are timely in their responses, very efficient!
After engaging with Matrix247 and having a complimentary savings review done, Sharples Group overall communication overheads dropped significantly... and the pro-active customer service team at Matrix247 handled the change-over effortlessly and took full responsibility. A breath of fresh air.
We at Banks Wealth have been Matrix247 since our day 1 in 2011. They have provided excellent support at competitive prices during that time and have helped us expand our communications as our company has grown
We have dealt with Matrix247 recently and could not be happier. Both Vicky and Sarah came to our office to assist us with upgrading our existing system and they were both very efficient, polite and helpful. I would highly recommend them.
Great service from everyone involved at Matrix247. Engineers turn up when they say and sort any issues. Mia, our account manager is very helpful and informative dealing with any of our issues or queries, wouldn't hesitate to recommend the company for any of your communication needs.
Latest
Blogs
News
Articles
Events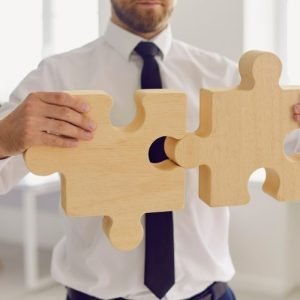 Discover the top 5 cloud telephony integrations that can revolutionize your communication processes, improve customer experience, and boost sales. Learn about CRM integrations, meet the team page integration, information on hold, queue buster, and Teams integration.
Read More >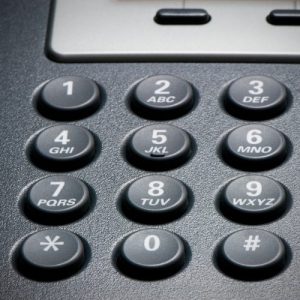 Discover the benefits of VoIP telephony, including affordability, flexibility, and advanced integration, and improve your communication processes.
Read More >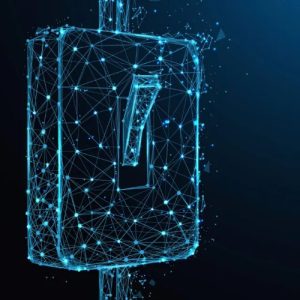 The Great British Switch-Off is looming, yet 28% of UK organisations are still oblivious to the potential impact. Matrix247 urges businesses to act now to migrate to VoIP-based technologies to avoid disruptions to phone services, downtime and reduced productivity.
Read More >