Why going paperless should be your company's new year resolution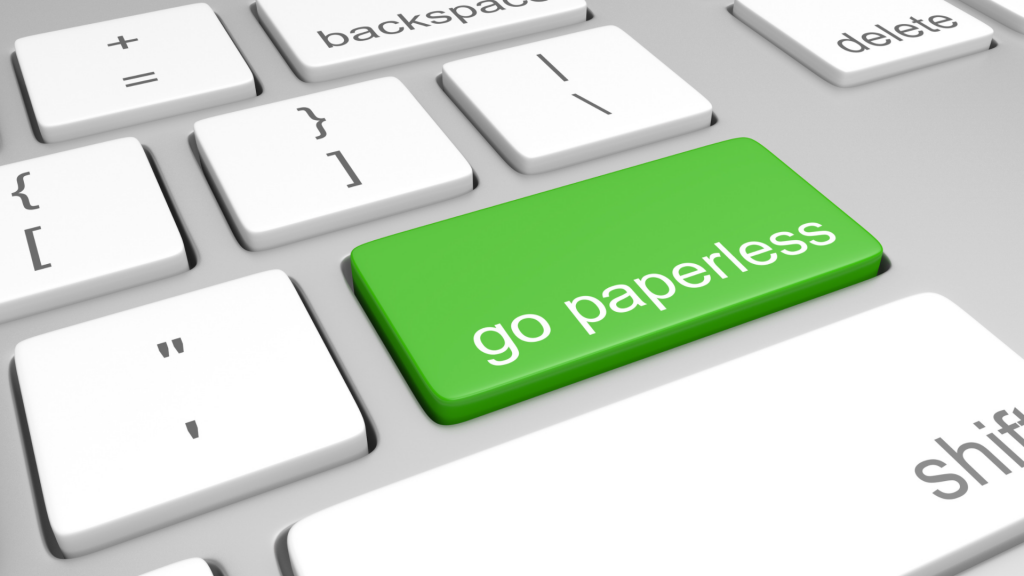 As we arrive in the year 2022, it's time for people to list down their New Year resolutions that they probably will give up on come February!
Whether it's going to the gym more often or learning a new skill, we want to enter 2022 with a new lease of life and turn a new page… perhaps even a digital page?
The idea behind a paperless office has been around for decades, but the 'idea' became a reality when the pandemic made working from home the new norm and with developments in the post-Web 2.0 world, a paperless office is more attainable than ever.  
But UK businesses are still being weighed down by the volume of paper being used in offices, with the average office employee consuming 10,000 sheets of paper every year, with more than three-quarters of the 10,000 sheets ending in the waste stream.
High wastage comes from unnecessary printed emails, printing full documents when you only require certain pages, duplications, and unattended printing jobs.
So, how do we change the behaviour we have to paper, and what are the benefits of having a paperless office in 2022 and onwards?
Have a positive impact on the environment
One of the most obvious and important benefits of a paperless office is the reduction of paper consumption. As mentioned, 75% of paper used in an office environment ends up in the bin, which is far too much unnecessary waste.
By reducing our reliance on paper, it allows for organisations to be more sustainable, helping to take an eco-friendlier approach towards the planet.
And it's not just paper.
If we look at printers and ink cartridges in general, these products have oil and other non-renewable substances which are harmful to the environment, and if disposed of improperly, they can pollute water and contribute to the spread of ecological damage. By cutting a reliance on paper, organisations are doing their part to help the environment and reduce their carbon footprint, save trees, and disrupt the paper manufacturing chain which is a major contributor to environmental pollution.
A great cost-effective measure
It sounds obvious but if you aren't buying paper then you're saving a lot of money. Copier paper costs alone can take up a hefty chunk of any budget, not to mention the expenses for printer toner and copy machine maintenance, as well as stationary associated with paper such as staples, paperclips, file folders, lamination, labels, and other paper-organising office supplies.
Now, imagine you didn't have to pay for any of these items anymore, and being able to redirect these funds to grow your client base, revamp your business strategies or hire those key employees you've been looking for.
A paperless office is an effective method to improve revenue and reduce unnecessary spending to help drive business performance and efficiency. So, the next time you are looking to buy paper, think to yourself, "Can I not just store this in the cloud and save some money?"  
A more productive workforce
A global survey found that workers spend an average of 4.5 hours a week looking for documents, that's more than half an entire working day!
Nothing adds to a cluttered, messy workspace like paper, as the paper piles up on your desk, it is just a constant reminder of the work that needs to be attended to and creates a distraction that keeps you from fully focusing on the task at hand.
A clean, organised environment produces better focus and increased productivity and can be achieved with an effective digital document management solution which takes this responsibility off you, allowing you to be more productive and focus your attention on other projects.
With digital document management, employees can easily file and locate the documents they need in moments instead of hours, reducing these mundane tasks of searching through office drawers and making sure the latest version is always at hand.
With paper, there is a high risk of confidential files being left lying around or stored incorrectly which can leave sensitive information in the wrong hands. However, a digital storage system can protect and track all activity on the files.
In the most unlikely of circumstances, an office can face issues such as a fire or a break in, which can put paper documents in jeopardy.
Digital documents can be accessed more easily and safely, bringing a greater peace of mind by knowing everything is in its proper place, even if the computer hardware were to suffer damages or be stolen, your cloud storage would be free from harm. Confidential documents on the cloud can also be accessed by certain people if needed, with password protection and unique codes, meaning those with granted permissions can access and edit documents.  
Make 2022 a paperless one (or even paper-less, if you can't fully commit to zero paper!)
Having all your work files scanned and organised into a digital filing system takes a certain amount of time and adjustment and trying to move away or even convince staff to adapt to the ever-changing digital landscape can be a daunting exercise.
Whilst training employees who are set in their ways can be challenging, if the advantages of a paperless office are communicated and fully understood there is no doubt that the benefits will overcome the potential obstacles. A digital document management system which can receive, track, manage and store documents can revolutionize your workplace, increase efficiency, and help the environment. It's a win-win situation for any organisation, whether it's looking to be more socially responsible or trying to save some money in their budget.
If the pandemic has taught businesses anything, it's that the digital world is vast and unpredictable, and WE must adapt to it, so if you're working from home, the chances of you printing documents become less frequent.
So, as we turn a new chapter in 2022, it's worth thinking about whether the page we turn should be a digital one.
Matrix247 can help you achieve the goal of having a paperless by connecting you with our printing experts who will be happy to go through our solutions and answer any of your questions. 
Become A Paperless Company Today!
Call our team and you'll speak to someone who really understands our products and can give you an estimated quote, no hassle, no obligation.
A named and dedicated account manager will allocated to you, and provide a consultative approach to help find the right solution for your organisation. 
Call us on 0345 030 5601 or, alternatively fill in the form and we can call you back.