How often do you hear informational messages or music when you're on hold on the phone? According to psychology studies, there are several reasons businesses give callers something to listen to.
30 seconds is the average time a caller is on hold for
30% of customers make purchases after hearing about it on hold
Businesses put 70% of callers on hold
Information on hold keeps the caller engaged as well as allowing you as a business to promote yourself.
Now more than ever it's important to explain to your customers how you are operating. As an example, listen to our short recording we have created, to give you an idea of how your recording can sound:
How many times have you been on hold and although it feels as though you have been on hold for an eternity, it has actually only been 3 minutes? Even if a caller has been on hold for a couple of minutes, if there is no music or information played to them and all they hear is silence, this can make the time they are on hold seem excessive and feel longer than it actually is.
Playing music, informational messages or spoken messages (e.g. "your call will be answered shortly") to fill in the time is more favourable to a caller on hold as time feels like it is going more quickly.
75% of callers met with irritating pre-loaded telephone music hang up within 30 seconds. Certain types of music can calm a person while on hold, while other types cause them to react negatively. According to a study in the Journal of Applied Social Psychology, it is proven that playing pop music rather than instrumental elevator music makes callers less angry when someone finally answers.
Short, repeating melodies or messages will drive anyone crazy. To keep callers on hold for as long as possible, it is of paramount importance your business keeps messages at a long length, so the caller doesn't hear the same thing over and over.
Ideally, these messages should be designed to be informative to the caller, increasing the likelihood for a productive conversation when the call is answered by a member of staff. Also, it is a perfect opportunity to present promotional materials and instructions.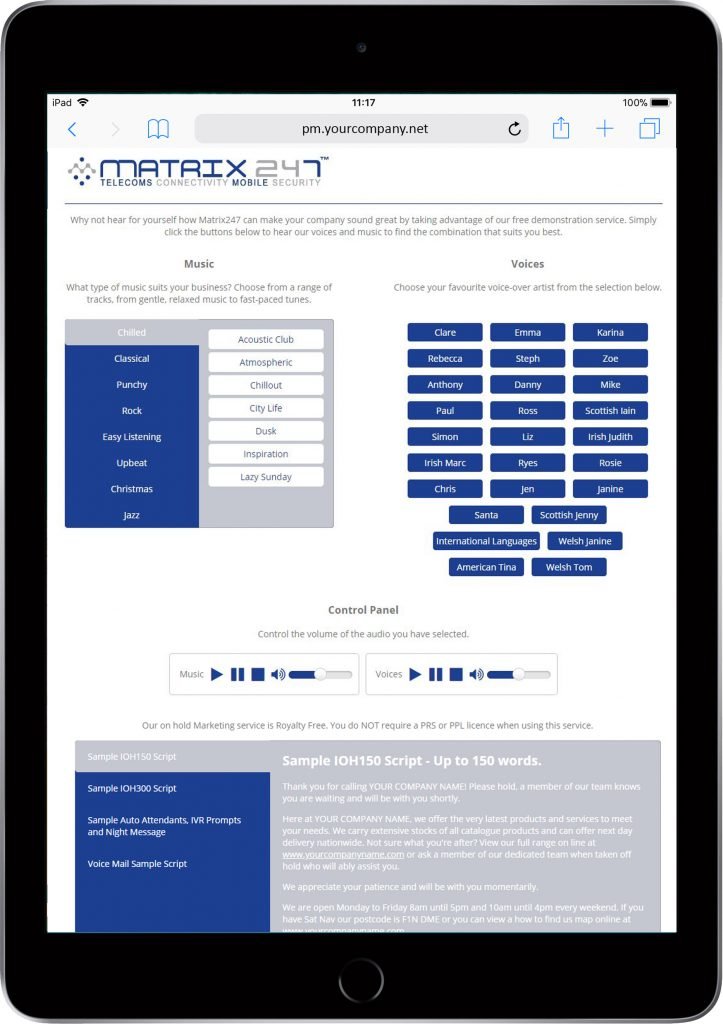 Since the 1980s on-hold programs haven't massively changed. The idea is to keep callers entertained and interested to prevent them from hanging up. However, it's a shame that most corporations and businesses still have a lot to learn about providing a happy, on-hold experience for their callers.
If you would like to leave a professional message on your phone system speak to a member of the team on 0345 3620 247 who can help you come up with a script. Our bespoke On Hold Marketing service is designed to help you communicate directly with your customers. You can deliver key business information, raise customer awareness and increase sales!
Call our team and you'll speak to someone who really understands our products and can give you an estimated quote, no hassle, no obligation.
A named and dedicated account manager will allocated to you, and provide a consultative approach to help find the right solution for your organisation. 
Call us on 0345 3620 247 or, alternatively fill in the form and we can call you back.