Cloud Computing Moves to the Head of the Class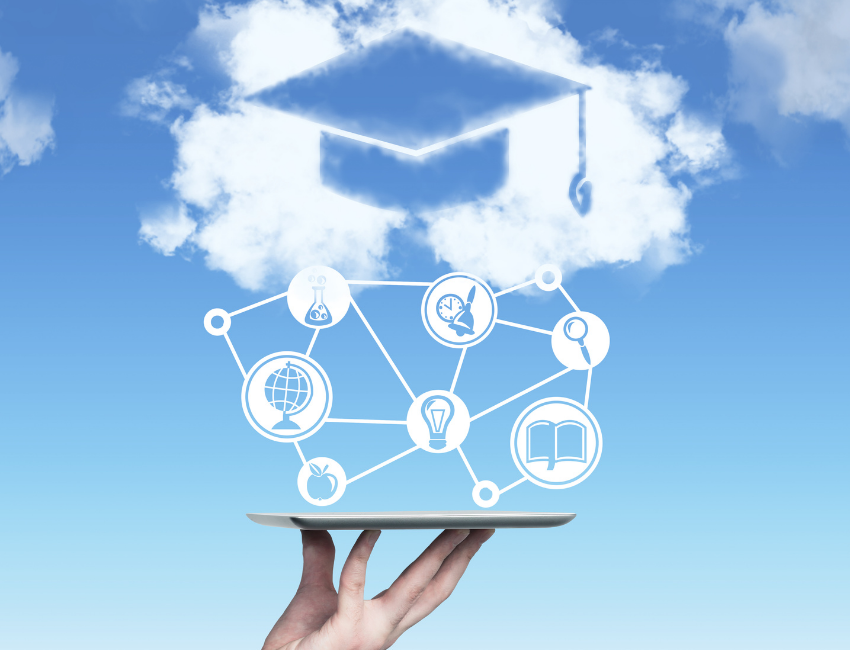 Education is graduating to the cloud for its computing power, security, and collaboration tools
More than any other technology, cloud computing lays the groundwork for high-tech education. The accessibility of information stored in cloud servers makes it possible for educators and students to access courseware and educational materials from anywhere. Data storage, backup, and security challenges are simplified in the cloud, and the reliability and affordability of cloud-based applications are friendly to budget-conscious institutions.
Cloud-enabled technologies help schools increase the efficiency and collaboration of administrative processes, including student recruiting, admission, and retention. They also enhance the operational effectiveness of campus operations and promote new avenues for learning, research, and teaching.
TOP SEVEN CHALLENGES FACING EDUCATION INSTITUTIONS
1. Scarce financial resources
Educational institutions must support IT-enabled institutional efficiencies and innovations while balancing IT priorities and staying within budget.
2. Ever-increasing bandwidth demands
Schools are consuming ever-greater volumes of bandwidth, so it is becoming critical for schools to get their infrastructure right to support this.
3. Data security
Securing and protecting valuable institutional data as well as the private data of students and staff is paramount.
4. Data-enabled institutional culture
Institutions can use business intelligence (BI) and analytics to inform the broader conversation and answer big questions.
5. Digital integrations
It is vital to ensure system interoperability, scalability, and extensibility, as well as data integrity, standards, and governance, across multiple applications and platforms.
6. Change leadership
Institutional constituents must adapt to (and leverage) the increasing pace of technological change.
7. Student-centered institution
Technology takes an increasing role in defining the student experience on campus—from applicants to alumni
BUSINESS REQUIREMENTS FOR EDUCATION
Efficient communication and data-sharing tools
Communication, collaboration, and data-sharing are fundamental tenets of the education experience, and increasingly schools are leveraging technology tools that promote advanced communication and data-sharing options.
Cost-effective technology and IT management
Cost is a constant concern. Services that place minimal demands on scarce internal resources help schools spend more funds on their missions.
Security of student information
The vast amount of sensitive personal and financial information collected and stored by schools and universities needs to be stored and held securely and in compliance.
Access to decision-making data
Big data is now being used for strategies such as student retention, course planning, and back-office process automation.
Promoting student success
Higher education institutions are placing considerable importance on student success initiatives, with 74% incorporating a student success focus into their IT strategy.
Physical security
Schools are taking steps to protect students and staff, and are increasingly interested in integrating security technologies with other platforms.
Cost-effective
Cloud services can be less expensive for schools than maintaining an internal infrastructure and employing the IT staff required to support it.
Flexible and reliable data storage
Cloud provides virtually unlimited data storage capabilities. Resources can be added or shelved in response to growth or a change in focus. Schools can store more data without having to update or purchase additional hardware.
Embrace new technology
A cloud model allows schools to quickly embrace new and emerging technologies and incorporate them into their learning strategies.
IT staff availability
Cloud computing frees IT resources for other tasks because the cloud service provider takes care of regular maintenance and updates, as well as security checks and procedures.
Efficiency
Cloud services offer more effective management of software licenses through on-demand software (SaaS) and timely, centralized updates, performed by qualified software engineers.
Security
Cloud services provide 24/7 disaster recovery and more robust security designed to meet the compliance and legislative demands facing education organizations.
Learning strategies
Cloud facilitates learning strategies such as flipped learning, in which students learn and discuss course material outside of the classroom and then do projects together in the classroom. Flipped learning requires file-sharing apps, wireless presentation gateways, video servers, and chat apps—all cloud-enabled tools.
Any Questions? Speak to a Cloud Specialist today
Call our team and you'll speak to someone who really understands our products and can give you an estimated quote, no hassle, no obligation.
A named and dedicated account manager will allocated to you, and provide a consultative approach to help find the right solution for your organisation. 
Call us on 0345 030 5601 or, alternatively fill in the form and we can call you back.